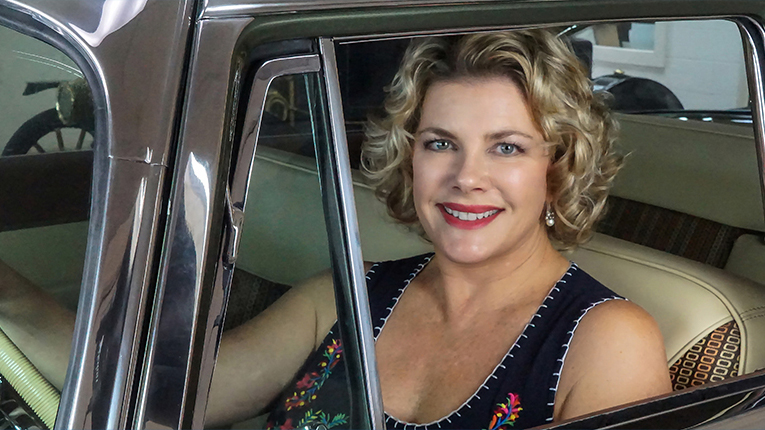 Buy Ford Thunderbird
Ford Thunderbird
Now Available at Classic Lady Motors
The  1958 – 1960 Ford Thunderbirds took a turn away from the mid-fifties 2-seater to a four-seater with quad headlights, distinctive tailfins, a back seat, and a larger chrome grill. Both the hardtop coupe and convertible were model offerings. The boxed lines and a wide pillar roof led to the name the Squarebird. The 1960 Ford Thunderbird was the last model year of the Square Bird. The Square Birds with their beautiful style and luxury appealed to middle-class America.  The sunroof option was not only a trendsetter, but it was also a very popular option. The Square Bird years were very successful for the Ford Motor company with 1960 turning out to be a banner year. Ford produced 92,843 models, a production number that was not surpassed until 1977.
Ford had an advantage in the automobile market place in that it had no competitors in the personal luxury car segment. It was not until the 1962 Pontiac 2-door Grand Prix was released that Ford saw sight of competition. The Ford Thunderbird was still a very popular luxury car through the 1970s.
For the 1960 Thunderbird year, Ford offered three engine options: the 352 cubic inch/300 horsepower, the 352 cubic inch/360 horsepower, and the 430 cubic inch Interceptor Special. When I asked a customer once how fast the Interceptor would go, he said put it this way if you are with another man's wife, you won't get caught!
You can read more about 1958-1960 Ford Thunderbirds at https://www.hemmings.com/magazine/hcc/2007/12/1958-1960-Ford-Thunderbirds/1553355.html.  Here you will gain some perspective from a Ford Thunderbird enthusiast.